When my older sister tripped off to college, I had the happy fortune of inheriting her old-school record player. It came in a cute little suitcase, along with a massive collection of vinyl 45s. I scratched the heck out of them all, as I was fond of dropping the needle willy-nilly on my favorite parts of each song. But by far the most worn was The Kingston Trio's 1959 version of
The M.T.A. Song
(popularly known as
"Charlie and the M.T.A."
). You can listen to it
here:
(Note: There's a brief, spoken intro.)
Basically, poor Charlie was a working-stiff who paid his dime fare to ride the Boston subway—but then discovered he was stuck on the train forever because he didn't have the extra nickel to pay his transfer fee after a sudden, nefarious fare hike. So—this was the best part, in my view—good ol' Charlie's wife went down to the station every day at lunchtime to pass a sandwich to him through the window of the train as it roared past. Yikes.
Admittedly, it's a catchy tune, and of course as a kid I was clueless about its darker
political history
. But why exactly have I always been fascinated by Charlie's cautionary tale? It's true I'm a Beantown-born girl, often short on allowance money, and a major train aficionado (my grandpa worked for the Erie Lackawanna.) I suspect there's something more to it, though.
The idea of being stuck in limbo, watching the world and time pass by, over and over, with no prospect of relief other than a measly daily sandwich, is somewhat unsettling. And it's one thing if your train is empty, with a creepy guy staring at you from the other end of the car, and quite another if it's packed with people and you are the sandwich, hanging on for dear life to a pole or strap or the coat of the large man standing next to you.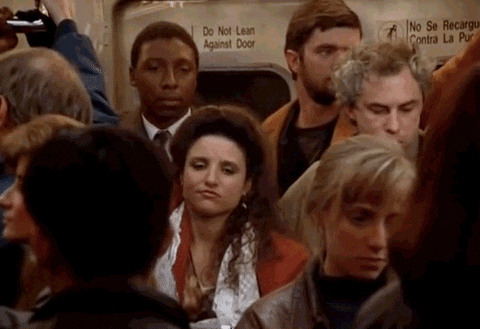 But logistics aside, did Charlie hate his new life as a commuter to nowhere? Or did he welcome it as a respite from his troubles? And if he were a writer like me, would he have used the time to observe his fellow passengers and buckle down to write the Great American Mystery Novel—or brood over lost freedoms, unpaid bills, and missed deadlines? Was he endlessly stressed about all the possible ways he might get off that train, or did he ultimately come to accept his fate? Or…did he secretly enjoy his passive existence as a perpetual passenger? Did he really NEVER get off of that train?
One thing is for sure: Poor Charlie became not only one of the most famous guys in Boston, but also the mascot of the current MBTA (Massachusetts Bay Transit Authority). You can walk up to any ticket vending machine and purchase a reloadable Charlie Card or Charlie Ticket. (Are you sure you want to risk it?)
My kid self and I remain concerned. Where is Charlie now, exactly? Did he end up dying on that train and buried under the tracks somewhere? Does his ghost haunt the "T," as locals still call the Boston transit system? Or did one of those windbag politicians mentioned in the song finally intervene successfully for Charlie, and release him to the loving arms of his faithful, sandwich-bearing wife?
Which brings us to another issue. Why didn't Mrs. Charlie just bring him a nickel instead? Maybe she didn't want him back. Maybe no one wanted him back. Maybe the whole thing was a plot to…
Yeah, I know, sigh. And I agree with you. This whole obsession with Charlie and the M.T.A. has to end, so I can finally finish my latest (and by "late," I mean really late) manuscript and return to my regularly scheduled life and long-suffering friends and family. I wonder if Amtrak still offers that cool writer-in-residence train scholarship…
All aboard! And beware the closing doors.